Considering the prevailing status of the economy, we all know that it is more crucial than ever to have a well-defined target market. It's because nobody can afford to target every single person. Small firms can compete efficiently with giant corporations by focusing on a particular market. Many companies claim to target "anyone interested in my services." Some claim that they are after small company owners or homes. All of these goals are overly broad.
But by focusing on a narrow market, you are not rejecting folks who do not meet your standards. Target marketing, on the other hand, helps to focus your marketing money and brand message on a certain market that is more likely to purchase from you than others. This is a lot more cost-effective, efficient, and successful way to reach out to potential customers and produce leads.
Let's understand this with this example!
For instance, in the USA, an architectural design firm may target homeowners aged 30 to 60 with annual earnings of $180,000 or more. To narrow the market, even more, the organization may choose to target only individuals interested in classic kitchen and bath remodelling. This market can be divided into two categories: working parents and elderly baby boomers. I guess you must have understood by now what the difference of having a specific audience for your business means.
Well, in this blog you'll read everything there is related to the target audience/market. So, keep reading if this topic concerns you.
What Do You Understand By Target Audience or Target Market?
So, as the term suggests, a target market is a group of people to whom a business wishes to sell its goods and services. And this group is made up of people who share the same needs and desires as the organisation.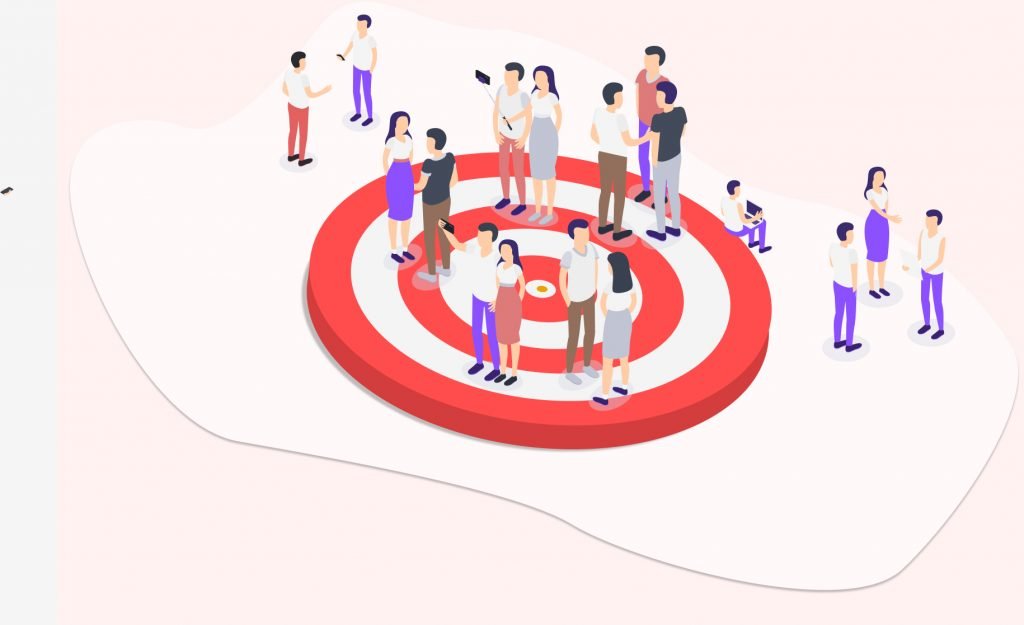 Well, the first step in developing a business plan is to identify the target market. It is a necessary component of creating a marketing strategy. It's like: without the right target market, a company's efforts to succeed will simply fail. A target market can be defined using demographic, geographical, behavioural, and psychographic parameters.
Why Do Businesses Need A Target Audience?
This is the most common question that comes to each of our minds: why do we need a target market? So, when you pinpoint your target audience, you get better results from your marketing efforts.
To comprehend why, we must first answer the question, "What is the meaning of the intended market?" So, as mentioned above, this group of people, whether referred to as a target audience, target market, or intended audience, is the most likely to appreciate your product or service. These two objectives will be met by exploring and identifying your target audience:
You'll get rid of any preconceived notions you have about your intended audience:
Yes, you read that correctly as it's easy to assume that people who are interested in your product are similar to you. But trust me, only audience data can tell you for certain. The research that goes into defining your audience will reveal their true characteristics and interests.
You'll know what marketing materials to create for your customers:
When you understand your audience's preferences and problems, you can create content and other marketing materials that are tailored to them.
Overall, these advantages will make it easier to conduct marketing that is relevant to your target audience, increasing your sales and revenue potential. After all, seeing your marketing is one thing; getting something out of it is quite another.
Do You Know What Type Of Target Audience Exists?
You can classify your target audience based on their life experiences, preferences, and purchasing habits. Some marketers who understand their target audience divide them into groups based on these characteristics, a practice known as segmentation. At this point in your process, just remember that you can segment your audience using categories such as these target market demographic examples:
Age
Gender
Career
Location
Subculture
Attitudes and opinions
Purchase intent (likelihood to buy your product)
Hobbies and interests
Lifestyle
Is It Possible To Have More Than One Target Market?
As you might have guessed from the rest of the article, the answer is "Yes!"
In fact, having multiple target audiences is almost always a good idea because even if you only serve one type of customer, you'll serve them at different points in the customer journey, requiring different types of communication. The most difficult challenge is to avoid going overboard when defining your target audience.
There's a real danger that you'll create too many different target audiences and find it difficult to cater to them all. The most important thing is to strike a balance.
Consider the following example.
Netflix, for example, has made it its mission to create original programming based on market segmentation and clever audience targeting.
The original programming it creates to reach children and families is very different from the content it creates for students, and it varies greatly from region to region.
Another company with multiple target audiences is Johnson and Johnson, which owns a variety of medical and lifestyle products such as Clean & Clear, Band-Aid, Listerine, and Benecol.
Johnson and Johnson had no choice with all of these different products on the market. To sell different products in different markets, it needed to develop different audience targeting strategies.
How To Decide Who Your Target Audience Is?
We can understand that it can be quite confusing at times to determine your target audience effectively. But, it is not something next to impossible as you can do it efficiently when you follow the correct approach. Let us have a look at some of the ways through which you can determine your target audience.
Understand Your Existing Customers
It is always a good idea to understand what kind of customers you have at present, and why do they purchase from you? Search for shared hobbies and behaviours. Which ones provide the greatest revenue? We are saying this because other people who are similar to them are very likely to gain from your brand.
Know Your Competitors
You must be having competitors in your field and some of them might be highly successful. You just need to understand how they function and know which group of the audience they are targeting. Not just this, you should do some research and try to find out who their current customers are. This way you might end up finding some audience group that they are missing out on and you can take advantage of it by targeting them and standing out.
Do An Analysis Of The Product/ Services You Are Offering
Make a list of all the features your good or service has. List the advantages of each feature next to it. An interior designer, for example, offers superior design services. A sophisticated corporate reputation is one of the advantages. Customers will be attracted to a firm with a professional image because they perceive it to be knowledgeable and trustworthy. So, in the end, the benefit of good design is that you get more consumers and make more money.
Create a list of individuals who have a need that your service meets once you've outlined your perks. An interior designer, for example, could target organisations looking to expand their client base. Though this is still too broad, you can at least have a starting point, to begin with.
Determine Particular Demographics That You Will Target
You don't just have to figure out the audience whose needs meet the product or services you are offering, but also those who are going to actually buy it from you. You can determine your demographics on the basis of age, gender, location, family status, educational qualification, ethnic background, marital status, income etc.
Understand The Behaviour Of Your Target Audience
If you think that your job is done once you determine your target demographics, you are wrong. Yes, you heard it right as you need to understand their behaviour as well. Not getting our point? Well, we mean that you need to understand how your target audience thinks. You can easily understand the behaviour of your audience by knowing their personality, values that matter to them, hobbies, attitude, lifestyle etc.
Moreover, you need to analyze how your service or product will blend into the lifestyle of your target market. When and how will your intended customer use the product? What qualities attract your target the most? What information sources does your target use? Does your audience read the newspaper, conduct internet searches, or attend specific events?
Analyse Your Final Decision
It won't be wrong if we say that analysing the final decision is one of the most important steps. Yes, this is because you can't just make a decision at one go and expect it to be perfect in all respects. Once you have decided who your target audience will be, you need to review everything by performing in-depth analysis. You should ask numerous questions to yourself before you call it a day which include:
Is there a sufficient number of people who meet your requirements?
Will your product/service actually help your target?
Will they realise the value in it?
Do you know what motivates your target to make choices?
Is your product/service affordable to them?
Is it possible for your message to reach them? Are they simple to find?
Conclusion
Now that you know how and why to define your target audience, it's up to you to start profiling your ideal customer and determining who you want to achieve and what signal you want to reach them with. The good news is that once your target audience is defined, your business will begin to see increasing returns over time.
As your company becomes more aligned with the audience you've defined, you'll find it easier to hit your goals in areas ranging from sales and marketing to business growth and beyond.
You should now have all of the skills necessary to define your target audience and reposition your business, so all that remains is for you to do so. Please return later and let us know how your business is doing in the comments and best of luck!
Thanks For Reading!!!!